After journeying through history, we decided to play around with some of the exhibits/games that were at the end of the ride. I can't wait to see what this area looks like after the refurb.
We were still about 15 minutes early for Soarin' so I dragged everyone over to find our favorite Clown fish.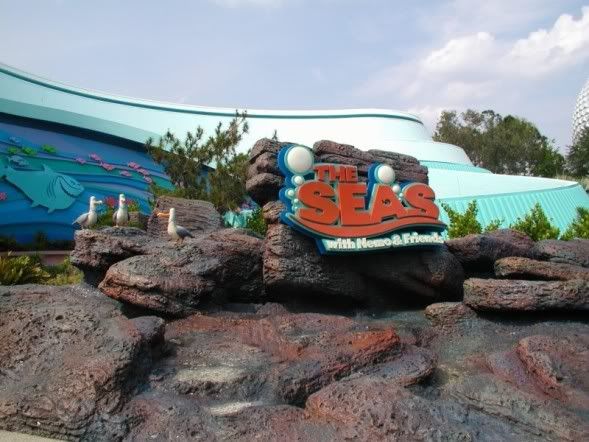 Mine! Mine! Mine!
I love the seaguls. I haven't seen Nemo in a while, so I had completely forgotten about them. We got in line for The Seas with Nemo and Friends. I really love the queue for this ride too. I had heard about is in the many podcasts that I listen to, but I thought it was so cool to be walking down into the sea. The one thing that made me realize we were at Disney and not really in the sea was when I leaned against one of the "rusty" pylons, I started to bruch my hands off thinking they would be covered in rust. They weren't and I touched the pylon just to make sure it wasn't rusty. It wasn't, but it darn well looked like it.
So after riding through the sea on a clam-mobile, we found Nemo (thank goodness! That little boy has got to stay put!). We then headed over to practice our Turtle-ese with Crush. DB did not want to sit up front with the kids, so he didn't get called on. I really enjoyed the show. I know that it is different every time, but I enjoyed the show in DCA last year more than this one. Who knows though? Maybe if I go again I will have the best show yet.
We explored some of the pavillion and DM and DB were eaten by a shark!!!!
I guess the "Fish are Friends, not Food" mantra really only applies to fish. Friendly Florida tourists are fair game. After DM and DB were extracated (sp?) from the jaws of the shark, we headed over to the Land. We ran into a friendly Photopass photographer and had some pictures taken with Nemo. I didn't purchase the CD since we only had about 30 picture taken, so I don't have any to share from that.
We made it over to Soarin' with our FPs and I gave mine to DSF1, and DBF, DSF2, and DB headed into the FP line. DM and I hung out and walked around the Land Pavillion. Had I known that the ride would take as long as it did, I would have taken DM on another ride, but I must have missed the DIS posting that a Soarin' FP still takes at least a half hour. I also missed DBF's call from the line saying that the wait was really long (and he didn't leave me a message with that info either). So DM and I rested for a little, saw Mickey, Chip, and Dale walking aroung the Garden Grill, and I learned how to tell them apart (Chip has the small black nose like a Chocolate Chip). I also stopped at the Kidcot station and colored a butterfly for myself.
Finally, everyone emerged from the ride and we were on our way to visit my lover!!! Finally! Before we left Epcot we saw one of my favorite stories played out in flowers: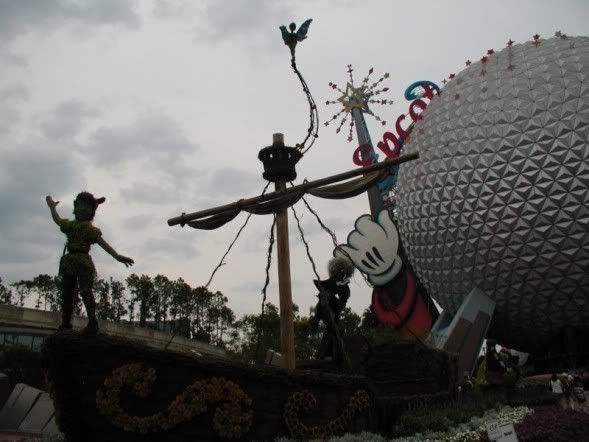 So we head over to the Magic Kingdom!!!! Yay!
After leaving Epcot, we head to the Monorail. I asked if we could ride in the front (being a good DIS-er), but there was already a family waiting, so we decided to skip it this time. By the time we got to MK, it was almost time for our ADRs at Tony's Town Square, but we weren't really hungry (just really hot), so I cancelled the reservations and we headed into the park.
I've been waiting years just for this: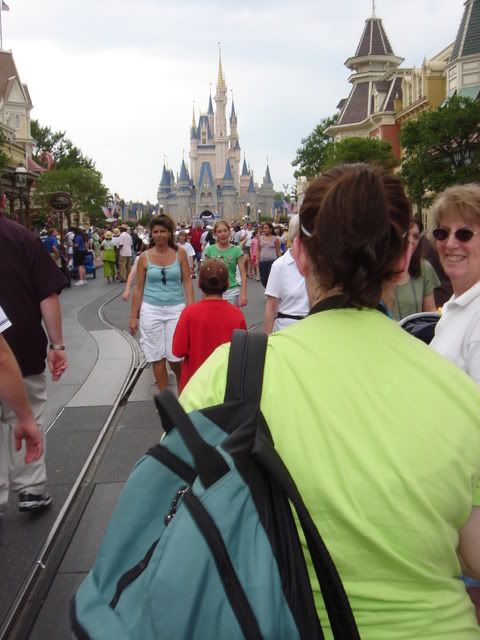 I guess the crowds here weren't that bad for a Saturday eveninng.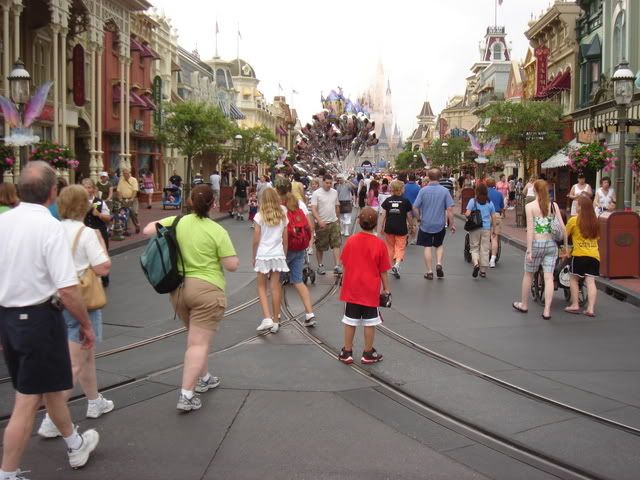 DBF bought some popcorn for all of us, and DB was starting to get cranky. DM was somehow about to cheer him up. The woman has so much more patience that I do.
After grabbing the popcorn, we headed over to Adventureland and our first stop was Aloha Isle for the famed Dole Whip. I got a Dole Whip, DBF got a Dole Whip Twist, DM shared a Dole Whip Float with DSF1, and DB got a vanilla soft serve . Kids these days. He actually like pineapples, but he wasn't interested in trying the house specialty. My opinion of the frozen treat: I liked it, but it wasn't as great as everyone makes it out to be. I will definitely have is again. I wish I have the twist that DBF had or if they offered a float with pineapple juice and vanilla soft serve. That would be just yum!
Yo ho! Yo ho! We headed over to Pirates of the Carribean next. This was my favorite ride in all of Disney before the rehab and the adding of Capt. Jack. When we were in Disneyland last year, the ride was closed due to the rehab. I was so upset! After listening to the various podcasts about the differences between the two rides, I really need to get back out to DL to try out the ride for myself. I loved the addition of Davey Jones at the beginning. DM started freaking out because she thought her hair was going to get wet. I guess they did a really good job on that effect . The additions of Jack throughout the ride were amazing.
Ah my lover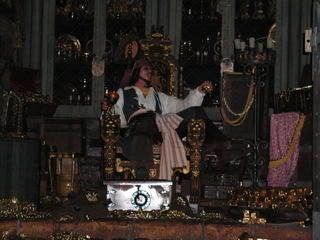 When we left the ride, I was able to find my Capt. Jack Mickey ears (I'll add that picture later since there I didn't get any taken with me wearing the ears while I was there). After watching the YOMD video, I wanted to get the pirate Mickey ears, but when I asked a CM where to find the ears, he showed me the famous red ones and then told me that they had just received the Capt. Jack ears. Well, I just had to have them. I also picked up a pirate key key chain. I have yet to assign it to a particular key. DB picked out a dubloon (sp?) necklace with some of his spending money and we headed out towards Big Thunder Mountain Railroad.
Next up: Where to eat dinner?