We got this picture on the way to get my parents:
After picking up the 'rents and the rest of the family, we decided to make our way through future world. DB and I were really excited about Test Track. I believe it was still new when I was at WDW in 2002. For whatever reason, I didn't make it on it then. I am also a fan of GM cars (I have a Grand Am that I love!), so I wanted to have some fun. We got over there and saw that the stand-by line was 45 minutes. However, the single rider line was only 20 minutes. I *asked* (i.e., told) everyone if they would mind riding alone, and we were on our way! DM wasn't going on this ride since she had brain surgery about 3 years ago. I believe she now has a plate in her head. Not that she would have gone on it anyways.
I enjoyed the pre-show, and I really enjoyed the queue. DB and I loved the knee test. (OUCH!) When we got close to the loading area, we realized that even though DB wanted to ride, we need to have one adult go through ahead of him, so DSF1 went first, then DB, then DBF and I (we got into the same car!), then DSF2.
Throughout the first two days, we had problems with DSF2 keeping up. He was having asthma problems, but DB was supposed to be staying with him. Everyone had "buddies" so that no one got lost, but DB just wanted to run wild (he doesn't really have any boundaries set by his parents, so this behavior is normal for him, but it drives me crazy). Whenever DSF2 got too far behind, DBF sent DB back to him. DB would whine and moan and stomp his way back to his dad.
After we were all done with TT, we decided to head over to Mission Space. DBF and DB went on the wild side and DSF1 and 2 and me went on the mild side. I was nervous about DBF going on the wild side since he has high blood pressure. We all went into our respective pre-show areas at the same time. I believe I was the pilot. We finished our trip to Mars first and I thought that maybe I could try the wild side if I get a chance. We went out and found DM and waited, and waited. I started to get worried since DBF wasn't coming out, but after a few more minutes of waiting, they appeared! Thank goodness!
After the rides, we were all hungry for lunch, so we headed over to Mexico!
We ran into these guys on the way: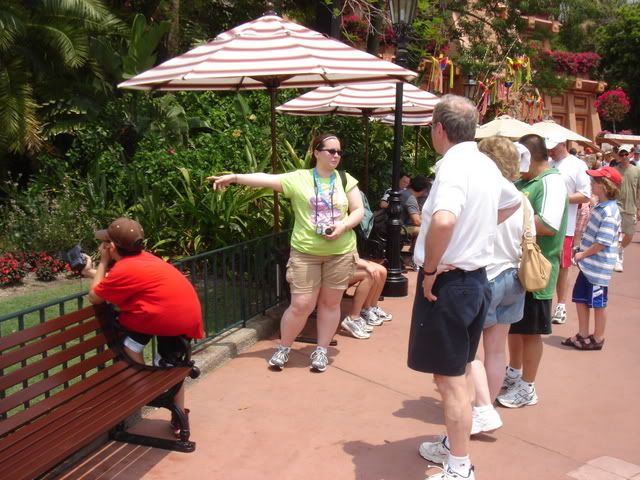 Me trying to explain the Three Caballeros to DM and DSF1: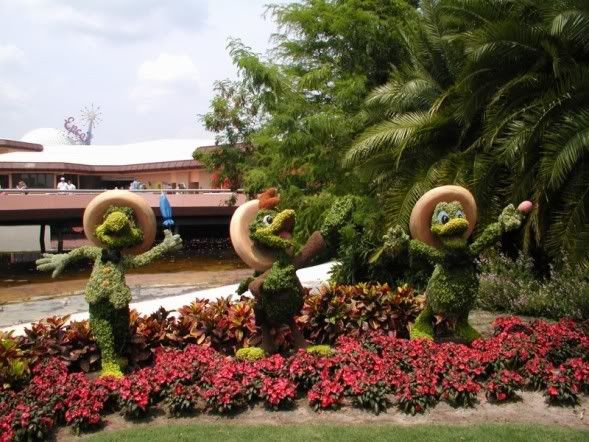 Believe it or not, I had the Three Caballeros for years. I bought it in college (I guess) when Disney was releasing movies every month or two. I never saw it!!! When I heard that they were being added into the ride in the Mexico pavillion, I decided to finally watch it. I'm sorry to tell all of the fans, but I really didn't like it. Maybe it was because it was a dated film, but I really didn't get into it. But I digress (ah a Golden Girls reference - I so miss their house!)...
We went to Cantina de San Angel for lunch. I ordered the Tacos al Carbon. They were pretty good, but we have a lot of Mexican immigrants near our house, so we are spoiled with delicious traditional Mexican food. I am very sad to say that I didn't get pictures of the food throughout the trip (except for one dessert). I believe that within our group we also ordered an Ensalada Mexicana and a Plato del Nino. I probably should have ordered the children's meal for myself, but what I had was okay. DSF1 also ordered a XX Lager. Yum!
After we were all fed and watered we climbed up the pyramid and headed down to visit Donald and his amigos. I don't recall ever being on this ride or being inside the building even. Don't know why, but I was finally there. After waiting in line for a few short minutes and teaching DB "thank you" in Spanish, to which the CM replied "de nada", we were on our boat to visit Mexico and find Donald. In the end, the three friends were reuinited and became the Three Caballeros again.
We looked around at the toys and other goodies, but DB really wanted to head back to the more exciting rides. Our FP for Soarin' weren't ready yet, but there was plenty to see and do before then.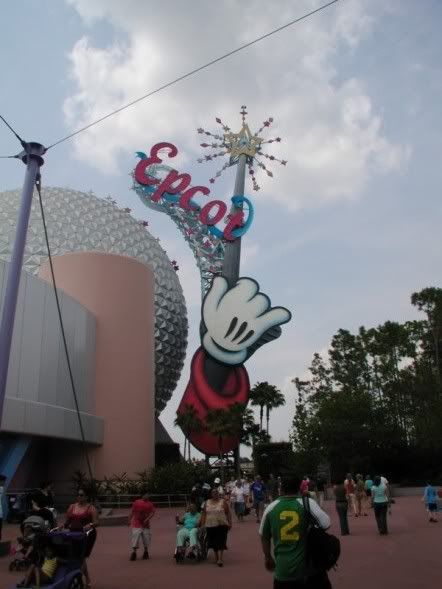 I know that most people don't like that and are very happy to see that it is almost gone, but it never really bothered me.
Since it was the afternoon and, we were able to hop onto Spaceship Earth with almost no wait at all. I love this ride. I think DBF took a nap on this ride!