So as when I left, we were just finishing up our breakfast and heading up Main Street. We didn't get very far. We ran into these guys: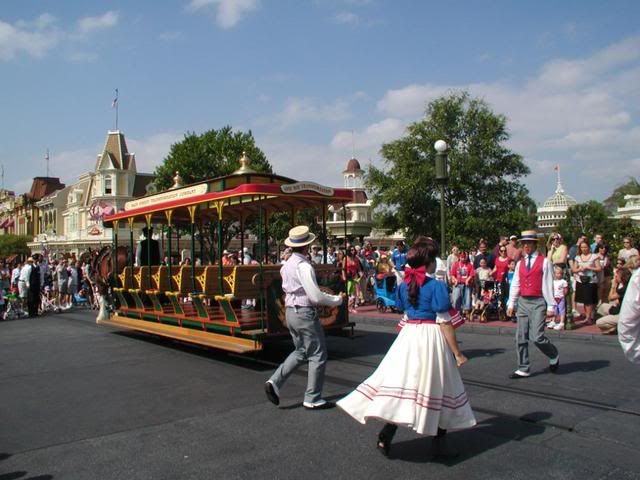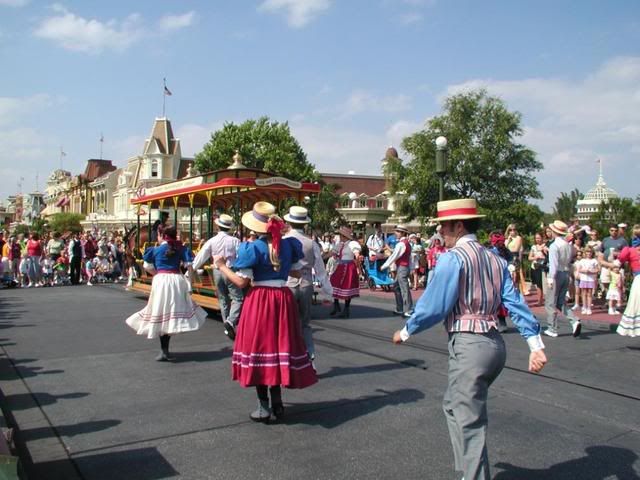 We watched them for a little bit and then DM and I turned to each other and said "We can see Mark doing this"
You see, Mark was a friend of mine when I was a freshman in high school. He was a senior (ok I had crush on him - silly 14 year old that I was). We were both in the school musical together. He was really good at performing. His sister used to work with DM so I had always heard about what he was up to in general terms. I knew that he had interned at Disney (I assume college program) and he had ended up staying there and working for Disney. I had heard that he was going to go to law school recently, but I don't know the truth to that. All that being said, here is the reason to my story.
Since it was now Monday we could call DM's office and figure out a way to contact Mark. We found out that he is currently at Epcot. That was great news since we were heading over there for lunch!
We kept heading back because I wanted to see Fantasyland today. We stopped for some pictures: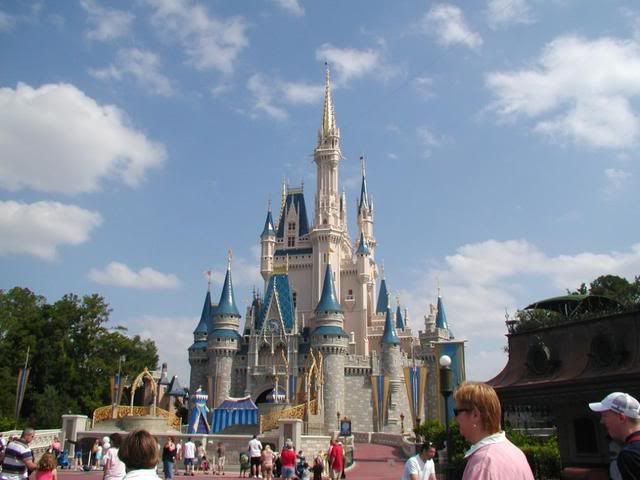 We actually got Photopass pictures on one of the bridges but these never made it onto the account. Of course I didn't find that out until I got home so I couldn't even try to retrieve them. Too bad because they would have been nice ones to print up.
As we were heading into Fantasyland, DB spotted Alice and the Mad Hatter (I'm not sure if this was one of the movies that he watched when we were preparing for the trip). Since DM bought him the autograph book, he wanted get in line and get a picture with them. I also knew that he really wanted to go back to drive the cars at the Tomorrowland Speedway, so we split up and DB got in line with DSF2 and DM, DSF1, and I made our way into Fantasyland finally.
DM, DSF1, and I got in line for Winnie the Pooh. When we got to the front, I told the CM that there was 3 of us. Three adults. Yes, I even specified that because I'm no skinny-minnie, so I wanted to make sure we weren't squished. Well, she put the three of us in the same row. Wewerethisclose! The ride was really cute, but with the Tigger part wasn't confortable considering the seating arrangements.
After Pooh, I wanted to go on Peter Pan, but the wait was 45 minutes and the FP return was around 1. Um... not going to work when we have lunch reservations. When went over to the next best option... Mickey's Philharmagic!
I loved this. I think it is my favorite 3-D film.
We then started making our way out via Frontierland and Adventureland. Okay, so I just looked at the map and now realize that it is the very long route, but we had time to get out of the park and to our lunch ADRs.
We say this guy:
And these guys:
And even this guy:
I have a picture of one of his cousins from my trip in 1994.
And finally we saw Capt. Jack!
But he ran off quickly because the governor was coming. So I got a picture of this guy: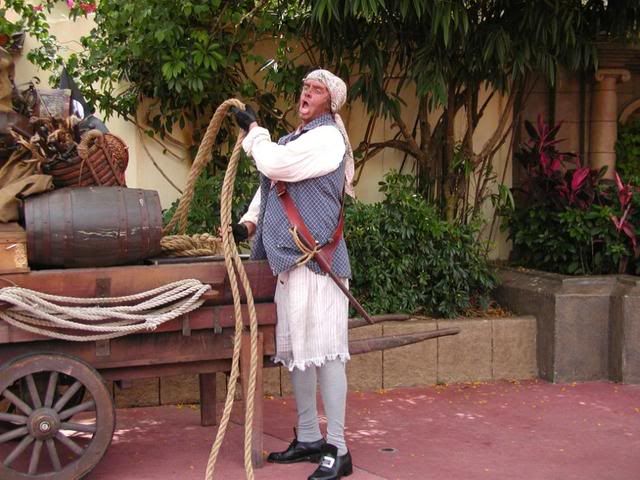 Once we made it out of the MK, we hopped to Monorail over to Epcot for lunch. I stopped at Guest Services to leave a message for Mark (which he never returned!). Then we headed over to meet some lovely ladies.
Next up:
Lunch with the Princesses!