So after leaving Captain Jack, we ran into Aurora and Prince Philip. I didn't get in line to take a picture with them, but snapped one from afar.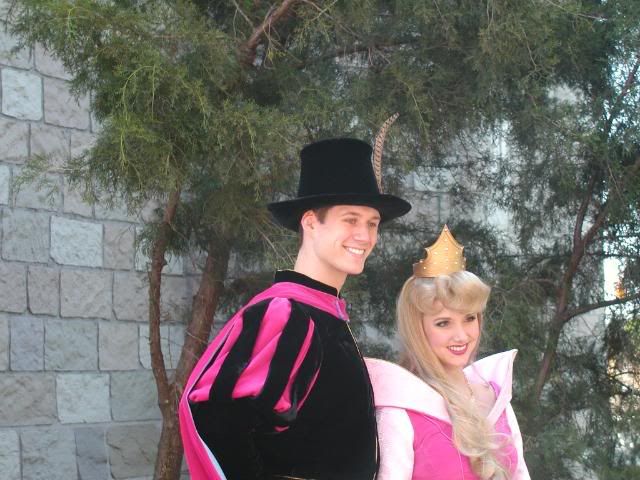 We wondered passed the carousel and everyone's favorite nanny getting ready for a ride:
And her friend:
DM wanted to go on her favorite ride: It's a small world!
Then we headed to Toontown (that is what it is called in the MK - since I just got back from DL, I don't remember if it is the same).
We visited Minnie's house and had some fun playing with her stuff.
While we are in Toontown, I get a call from DBF, he wants to get me a massage at the Spa. I tell him I would love that. He calls me back a few minutes later to say that the massage would cost something like $150 for 50 minutes! I can get one much cheaper at home so I tell him to skip it. He then tells me that he has a break and that he can meet us in the park. Yay! Some bonus time in the park with DBF. He heads to the busses while we make our way to the front of the park to meet him. We hop on the train and then head over to the Emporium to shop while we wait for him.
It doesn't take him long and we all head over to Tomorrowland to see the Carosel of Progress. But first, we see Buzz! DBF runs to the bathroom and I got in line to wait. When I was second in line, I see DBF and have him run over to get in line with me. Don't worry, I'm not like other people. I didn't insist on individual pictures since he hadn't been waiting with me the whole time.
I saw that the line for Stitch was nearby and not very long, so we ran over there next. I had a great time with Stitch, big hugs, trying to steal me from DBF and after he was convinced that Stitch was my one true love, but DBF needed to keep me, Stitch gave me back: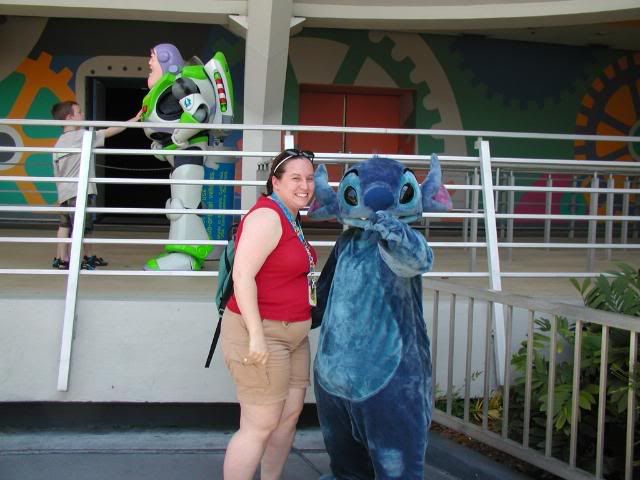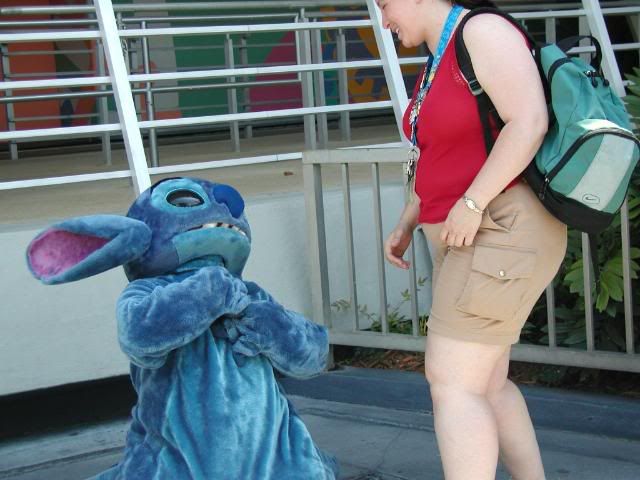 We then headed over to the classic, Carousel of Progress. I love this ride. DBF and I think that they should update it though. Not by simply updating the last scene, but by adding a whole additional carousel. Then they could add in some of the things missed between the last two scenes of the first carousel and add an up to date "future" scene. DM took a nap during the show though! Oh well, it is a relaxing ride.
We then stopped by MILF (Monsters, Inc Laugh Floor) (hehehe - does anyone else find that as funny as me?). It was a cute show. I think by the next time we go, it should be even better.
After that DBF had a little more time and so we headed over to the Country Bears. It is a great show for DM and DSF1 since they are in a bluegrass band. DBF had his turn taking a nap. I was pretty close to it myself. DBF admitted that he had never seen that show in its entirety.
Then it was time for DBF to head back for his next class, so he headed out to the entrance (and had a little trouble getting out since the parade was about to start). We waited for a few minute to see some of the parade near the start in Frontier/Adventureland, but they were taking too long and I realized that we would be able to go on POTC with virtually no wait.
We then headed toward the front of the park, but got stuck inside by the parade.After the parade ended, we made our way out, took the monorail over to the Polynesian to look around for a bit and then headed to the busses for DTD. The ride over seemed to take forever, but I finally had my own nap time.
One of my first stops was Ghirardelli. I ordered a double scoop thinking that a single would be a pathetic size and a double would be just right. Well, the double was a double scoop on steroids!!! But, it was absolutely delicious and refreshing. Yum! Chocolate! I wish I got a picture of that.
We did a little bit of window shopping, but I can't remember buying much else while we were there. Then we headed back to the hotel and DM and DSF1 decided to call it a night (at 4:30-ish).
When I got back to the room, DBF was on the phone trying to get Magical Express to pick us up from the Dolphin. Hmmm... sometimes that boy doesn't listen to me. I told him when I booked ME that we could only take it going to WDW, but not back since we would be leaving from the Dolphin. He always tries to get around the rules with those kind of things!
Anyways, once he got off the phone with them and booked us with Mears, we headed out to Epcot. Woohoo! We were finally going to see Illuminations!
But where were his dad and brother? They had gone back to DTD and DisneyQuest and were heading back to the hotel. Okay, so they would meet us at Epcot and grab a snack before Illuminations. Makes sense, Huh?
Of course as you may have already seen, things are not that easy with DSF2. We got to Epcot and started taking some pictures of the countries that I missed the day before.
DBF talked to DSF2 and found out that they were going to grab something to eat at the hotel and then head over. I personally think that is crazy because how could you pass up Epcot for the food court at a hotel? He told them to hurry up so they didn't miss anything.
We then grabbed some fish and chips in England, and of course a Guinness!
After eating we started wandering around to take more pictures and find other snacks.
I had to get a crepe in France and DBF took a bite out of it that was much larger than his fair share since it was supposed to be my snack!
By this point in time, DSF2 called to say that they were on their way.
We grabbed a frankfurter and bratwurst in Germany and grabbed seats to watch the show.
I didn't take any pictures of Illuminations. I guess I'll have to do that next time.
Apparently DSF2 and DB arrived at the International Gateway after 9, so they weren't able to get in. Afterwards, DSF2 said it was okay because it was ONLY fireworks. WHAT!!! That is like saying that WDW is only an amusement park.
I officially gave up on him at that point.
DBF left quickly and hopped the Friendship boat. We got off at the Boardwalk and walked around there, grabbed a slice of not-good pizza and sat down to soak in the atmosphere. We wandered over to the Atlantic Dance Hall. It was nice, but not very crowded. The people that were there looked like they were my parents age, so we only stayed for a few minutes.
We wandered around the Swan for a little bit. And then headed back to the room.
I made sure that I gave DBF the show schedules so that he could plan out the last day.